The Real Escape Game has been one of the top items on my San Francisco bucket list for a while. I was very happy to be able to finally attempt it this past Saturday.
So far the game has about a 2% passing rate. San Francisco has some pretty smart people, so you can say that this game is somewhat challenging.
What is the Real Escape Game?
First developed in Japan
You and 10 other people are locked in a room together.
There are clues and tools hidden around the room
You have to use the clues and tools to solve various puzzles
The puzzles will lead you to the key that will unlock the door
You have 60 minutes to escape
There are many iterations of this game. Some involve hundreds of players in very large venues. The following is a game played in a baseball stadium in Japan.
You can find out more information at http://realescapegame.com/
Tour of Japantown
I started off the evening with a quick tour of Japantown. Starting at the Japanese peace plaza, which is the center of Japantown. You can easily find the plaza by looking for the pagoda in the middle of the plaza.
Japantown in San Francisco is probably not anything like Japan, but it does have that I'm no longer in America type feeling. This is especially true when you walk through the mall nearby that is filled with distinctive Japanese restaurants and shops.
Like this place that uses faucets to hang clothing.
This is a shop filled with Japanese sticker picture machines. They are essentially photobooths, but the photos you get are stickers that you can stick to whatever you want. It's highly popular with Japanese middle schooler and San Francisco hipsters.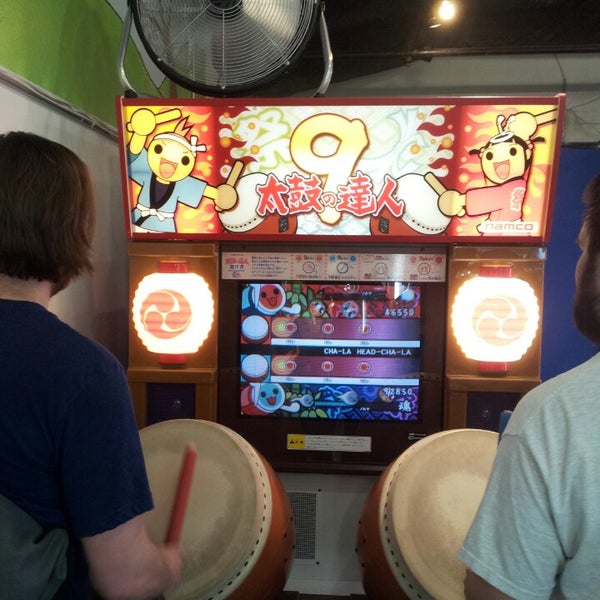 This is a Japanese arcade with machines that are all in Japanese. My favorite game is the Taiko drumming game. The most bizarre game has to be the table flipping game where the only thing you do the entire game is flip over tables out of anger.
Takoyaki
There is a little cafe near the mall entrance that serves takoyaki. I always go here for a snack when I'm in Japantown.
Dinner at Ssisso
Ssisso is a Korean restaurant directly opposite the Japanese peace plaza. I picked it because it is highly rated on Yelp, is reasonably priced, takes reservations, and can accommodate 8 people.
Joining me for dinner were my friends Jayson, Dan, Holly, Tiffany, Kheaton, Jessie, and Lauren. We ordered the seafood soondubu, seafood pancake, japchae, and the Ssisso chicken wings. The chicken wings were pretty solid, and definitely on the saucy side.
Kheaton ordered a huge shrimp salad that could probably feed an entire family.
Overall the food was solid but not outstanding. It would have been better had their beer taps been functional. But enough of that, it's time to get our game on!
Real Escape Game: Escape the mysterious room
Matt, Lauren, and Thomas joined us right before the start of the game, completing our team of 11. The mysterious room is in the New People building across the street from the Japanese peace plaza. The building is a combination shopping center and art gallery with a cafe in the lobby.
The guide met us downstairs and took us up to the waiting room. There another guide provided the back story to the game and explained the rules. The whole experience felt a bit of a creepy and suspenseful, which is all part of the experience.
This is not a picture of the actual room since photography is prohibited. But this should give you an idea of what the layout is like.
And just like that, our 60 minutes were up and the game was over. I can't tell you much about the game itself, but I can tell you some of the things I learned while playing.
Be very thorough when looking for clues: Everything is in the room for a reason. Don't assume an item does not contain a clue. Make sure, then double check.
Have a system for communication: Once you get into the room things can get pretty chaotic pretty quickly. It can feel like watching 11 chickens with their heads cut off. Make sure to communicate so you're not wasting time or resources.
Have assigned roles for people: You only have 11 man-hours so use your time wisely. Have some people be scavengers who only look for clues and have others be the puzzle solvers.
Be organized: There is a lot of stuff in the room, and it can get very disorganized very quickly. Have space set aside for used and unused items so you don't waste time. However, remember that sometimes an item may contain multiple clues.
Even though we didn't escape the room, we were super close. We had found all the tools and solved the main puzzles. We were about 2 steps away from finding the key and escaping the room. Considering that only 2% of the teams have passed and that none of us had experience with the game before, I thought we did a pretty awesome job.
Don't worry, we'll be back again… Next time we'll escape for sure!
Post-game drinks at The Social Study
After the game our brains were still buzzing from the game. Even as I was exiting the building, I couldn't stop looking around for more clues or think that I was still part of the game. It's pretty incredible how the brain can get into that puzzle solving mode and be completely engaged.
Matt and Lauren had to leave to go home, but the rest of us continued onwards to get some drinks. We decided to check out The Social Study.
The Social Study is a super chill beer & wine bar. The chairs you see actually fold up into the wall. There was also a DJ spinning old school hip hop. They have a few solid beers on tap and a variety of soju and sake cocktails.
The bar was not too crowded and we settled in comfortably to chat about the game and enjoy our drinks. It was a great way to cap off the night.