Highlights:
See the best street murals in San Francisco
Taste some of the best ice cream in the city
Amazing views of San Francisco from Bernal Heights
Taste sodas from around the world
Eat where Steve Jobs had lunch
Check out the other Andy's Days of Fun here. 
The Mission is known for a few things: beautiful parks, amazing food, and great night life. However, what you may not know is that the Mission has the highest concentration of street art in all of San Francisco.
According to KQED, the street art can be described as "A heady mix borrowed in equal parts from the Mexican muralistas, 1930s WPA murals, graffiti, skater graphics, hip hop, and the alternative comics that emerged in the 1960s and 1970s, the street art of the Mission reflects the concerns, aspirations, celebration, and anguish of a dynamic and vital neighborhood."
Read more about it at KQED.
This tour is designed to show you some of the best street art you can find in the Mission. And since a day in the Mission must include some great food, I have selected some great foods and desserts that should fuel your journey into the artistic roots of the Mission.
The stops:
*Note: If you want to learn more about the individual murals, go to Precita Eyes Mural Arts and Visitor Center first and grab a self-guided map for $5. The map gives you detailed info on many of the murals all around the Mission, including the name, year, and artist.
Stops 1-5
1. Start the day at 24th Street BART
We begin the tour today at the 24th Street BART station plaza.
As you get out of the station, you should already see several murals around the intersection. Much of the art tour today will focus on specific alleys that have a high concentration of murals. But keep your eyes open, because there is art to be seen all over this neighborhood.
Walk South from the BART station towards 25th street.
2. Lunch at Rosamunde Sausage Grill (Yelp)
Duration: 30-45 mins
Cost: $8-15
You should see Rosamunde on your right as you walk down Mission street. This place is known for their amazing sausages and large selection of craft beers. If the weather is nice, try to grab one of the outside tables.
As you can see, they have over a dozen different types of sausages, including a vegan sausage for those not into delicious meat.
You can also pair your sausage with one of the dozens of craft beers available. I'm always a big fan of day drinking while on vacation. So go wild and drink up!
The sausages come loaded with toppings. Don't order too much food though, because there are plenty of other food/dessert stops coming up.
Now that you're fueled up and ready to go, let's go see some art! Keep walking towards 25th street.
3. Quick tour of the Mission Cultural Center for Latino Arts (Yelp)
Duration: 15-20 mins
Cost: $2
You should see the Mission Cultural Center for Latino Arts on your right. In their words: "The Mission Cultural Center for Latino Arts (MCCLA) was established in 1977 by artists and community activists with a shared vision to promote, preserve and develop the Latino cultural arts that reflect the living tradition and experiences of the Chicano, Central and South American, and Caribbean people. MCCLA makes the arts accessible as an essential element to the community's development and well-being."
Now go up the stairs to the gallery.
The gallery only costs $2. What a steal!
One of the current exhibits at the gallery. The theme is Dia de los Muertos (Day of the dead), which is a Mexican holiday.
Okay! Onto our next food stop because art is better enjoyed with food.
4. Grab a slice at Mission pie (Yelp)
Duration: 5-10 mins
Cost: $4+
Keep walking South and you should see Mission pie from across the corner.
Mission Pie offers a selection of sweet and savory pies, tarts, and salads. I really like their Asian pear and raspberry pie.
To top off this stop with some art, check out the mural on the alley side of the building.
Continue down Mission street and you should see The Fizzary soda shop on your left.
5. Sip on a soda at The Fizzary (Yelp)
Duration: 5 mins
Cost: $2
The Fizzary is a soda pop and candy shop that sources sodas from all over the country. They even have an international section if you really want to get crazy.
I have no idea how you would go about choosing a soda with this type of a selection. I usually ask for recommendations from the friendly cashiers.
Once you've picked a soda, drop it into the Rapid Chiller for 4 minutes. You can use one of the colorful hourglass timers for added flair.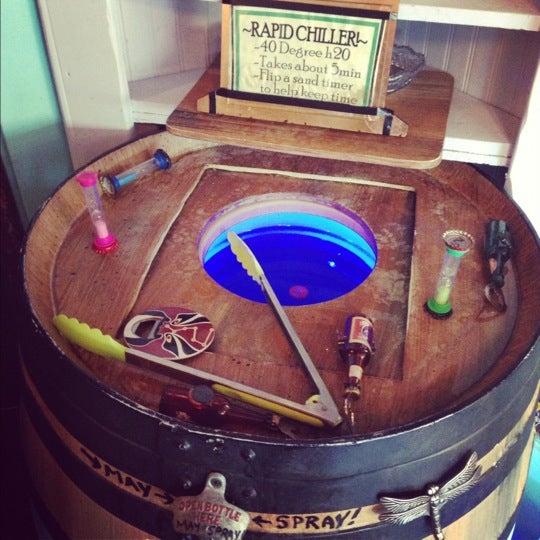 Protip: They have a buy 3 get 4 deal if you're with friends or if you want to take some with you for the road. 
Next we begin the actual street art tour. Continue down Mission street and take a left at 26th street, and you should see Osage street next.
Stops 5-8:
6. Street art 1: Osage street
Duration: 5-10 mins
Cost: Free
Since you're here to see the art for yourself, I will not put up too many images of the murals. I will only feature one mural per street as an example.
Many of the murals you will see today are painted on garage doors. How awesome would it be to drive your car into this garage everyday?
The street is actually 2 blocks, so walk all the way to 24th street before turning left. You should see Orange alley next.
7. Orange alley
Duration: 5-10 mins
Cost: Free
I chose this one because it makes the whole garage look like an old school computer. I'm a big fan of old technology.
Now make a right when you reach 26th street, and another right onto Valencia street.
8. Snack break at Anthony's cookies (Yelp)
Duration: 5-10 mins
Cost: $1.50-4
Near the corner of Valencia and 25th street you'll find Anthony's Cookies. The story is that Anthony Lucas was an accounting major, and used to sell cookies out of his car before opening this cookie shop. Well good thing he did, because now you get to enjoy his delicious cookies.
Anthony can often be found in the shop making the cookies, and smiling.
My personal favorite is the walnut chip. But there is plenty of room for debate, and for cookies. Make sure to get some milk too, in case you get dehydrated on the tour.
Side quest:
Right next door to Anthony's Cookies is Movette Film Transfer. They specialize in digitizing old film that people may have inherited or found. They have a pretty amazing collection of projectors and film supplies. Feel free to walk in and browse around. The staff is friendly and can answer some of your questions. But remember that they are a business, and not a museum.
Now continue walking towards 24th street and make a right. Walk past the BART station till Lilac street.
Stops: 8-15
9. Street art 3: Lilac street
Duration: 5-10 mins
Cost: Free
I love how this mural "Rock it. Don't Stop." reminds me of those hot summer evenings in New York.
Make a left at 26th street and go to Cypress street.
10. Street art 4: Cypress street
Duration: 5-10 mins
Cost: Free
"Recall Ancient Wisdom" reminds me of the art on Magic: The Gathering playing cards. For a game that was very popular with middle school kids, there was an incredible amount of awesome art on the cards.
Make a right at 24th street and come to our first shopping break.
11. Souvenirs at Mixcoatl Arts and Crafts (Yelp) and Luz de Luna (Yelp)
Duration: 15-30 mins
Cost: $0-???
These two gift shops are 1 block away from each other, and both were started by women entrepreneurs who graduated from the Women's Initiative program. "Women's Initiative is a non-profit that trains, funds, and provides ongoing, long-term support for women entrepreneurs—women who want to build and develop successful small businesses and, ultimately, achieve economic independence."
Read more about it here.
You can spot Mixcoatl by the colorful luchador masks they have on display.
Even if you don't buy anything, these stores are just fun to walk through. They sell a wide variety of jewelry, decorations, and gifts. Since we're coming upon the Day of the Dead, there are lots of skulls and skeletons for sale.
Luz de Luna has larger selection of items. It is also a bit more spacious so you can take your time checking out the goods.
Protip: If you want to purchase items from Luz de Luna, wait till you visit the Precita Eyes Mural Arts & Visitor Center. You can get a 15% off coupon for Luz de Luna there. 
If you're feeling thirsty, stop by Philz Coffee on the corner of 24th street and Folsom. Otherwise, make a right on Folsom, and another right on 25th street to get to Horace street.
12: Street art 5: Horace street
Duration: 5-10 mins
Cost: Free
Some of the art in the Mission aren't murals. Take this one for example. I like how it incorporates an often ignored item and gives it a new meaning.
From here, make a left on 26th street, another left onto Folsom, a right at 25th street, and another left onto Lucky street.
13. Street art 6: Lucky street
Duration: 5-10 mins
Cost: Free
I really like the expression on Chavela Vargas' face in this mural. I didn't know who Chavela Vargas was so I had to look it up.
Make a right at the end of Lucky street and you'll hit the mother of all street art alleys in the Mission, Balmy Alley.
14. Street art 7: Balmy alley 
Duration: 5-10 mins
Cost: Free
Balmy Alley is where it all started. According to Balmyalley.com, "The murals began in the mid-80's as an expression of artists' outrage over human rights and political abuses in Central America. Today the alley contains murals on a myriad of styles and subjects from human rights to local gentrification and Hurricane Katrina."
Read more about it here.
I really like this one because the style of the artwork reminds me of old cartoons I used to watch as a kid, and because it's a giant robot made out of houses! Notice that the robot stepped on someone, probably an evil landlord.
I got lucky and caught one of the muralists just finishing up her work. She finished 10 minutes before I snapped this. Although I'm not sure why it says 2000 in the corner…
Take a left at the end of Balmy Alley and another left on Harrison. That should bring you back to 24th street where you should see Humphry Slocombe ice cream on the opposite corner.
15. Ice cream break at Humphry Slocombe (Yelp)
Duration: 5-10 mins
Cost: $3-6
No one in San Francisco seems to be able to agree on what the best ice cream is. But Humphry Slocombe is always part of the conversation. As a relative newcomer into the field, it is already making a lot of noise, and ice cream.
That's probably because the owner Jake Godby is so obsessed with ice cream that he has tattoos of ice cream all over his arm! Though probably not as tasty as the actual ice cream.
Mmm… Just look at that… Nom nom. I recommend the black sesame flavor. I grew up eating black sesame porridge and never thought I would have it as an ice cream flavor.
Keep walking down 24th street to the Precita Eyes Mural Arts and Visitor Center.
16. Precita Eyes Mural Arts and Visitor Center (Yelp)
Duration: 10-15 mins
Cost: Free
The Precita Eyes Mural Arts and Visitor Center is where you can learn about the different murals in the Mission, and join guided walking tours of the street art. The tours are usually $15-20, and take about 90 minutes. You can also browse the assortment of posters, books, and literature about street art in the Mission. The people working here can give you good tips about new murals and events happening in the Mission.
If you're not a fan of guided tours (like me), then grab a $5 self-guided tour map. It includes the names of the murals, the artists, and the location.
Protip: Don't forget to ask for a 15% off coupon to Luz de Luna if you plan on buying souvenirs later.
17. Check out the exhibit at Galeria de la Raza (Yelp)
Duration: 10-15 mins
Cost: Free
According to the gallery: "Founded in 1970, the Galería is a non-profit community-based arts organization whose mission is to foster public awareness and appreciation of Chicano/Latino art and serve as a laboratory where artists can both explore contemporary issues in art, culture and civic society, and advance intercultural dialogue."
Learn more about it here.
Walk to the back of the gallery to check out the video room.
The artworks being displayed rotates frequently.
Had enough art yet? Maybe it's time for some more ice cream! Walk down 24th street to St. Francis Fountain.
18. Straight shake at St. Francis Fountain
Duration: 10-15 mins
Cost: $5-7
St. Francis Fountain is like an ice cream parlor straight out of Back to the Future. The signage and the seating probably hasn't changed in a few decades. But that's all part of its charm. So go in and grab a seat for a quick detour in time.
St. Francis Fountain specializes in ice cream and milk shakes. They offer regular milk shakes, malted shakes, and the straight shake. Interestingly, they use Mitchell's ice cream even though Humphry Slocombe is just a few blocks away. Perhaps there's a neighborhood ice cream rivalry brewing…
Rumor has it that Steve Jobs came to St. Francis Fountain once. The story is that Jobs was turned away from Flour + Water because he didn't have a reservation, and ended up having lunch and a shake at St. Francis Fountain. Check out the details here.
That's a lot of desserts so far! Let's get that shake to go and take a walk to burn off a few of those calories. Head towards the BART station on 24th street and make a left onto Harrison. That will bring you to Precita park.
19. Precita park (Yelp)
Duration: 20-30 mins
Cost: Free
As you walk towards Precita park you'll walk by Leonard R. Flynn elementary school. Make sure to check out the murals on the building.
The park itself is quite pretty, and has a big grass field for picnics and hanging out. It's an ideal spot to sit for a few and finish off that milk shake.
Feeling rested? That's good, because the next part is a bit of a hike. Don't worry, you'll be glad you did it.
20. Amazing views at Bernal Heights park (Yelp)
Go to the Western edge of Precita park and head up hill on Folsom street. Keep following the road and you should come to a walking path into Bernal Heights Park. Yup, this is it, it's time to go up.
Man that was tough huh? But look! Check out the awesome view!
There's a fenced off building at the top of the hill. You can't go in there, but you can walk around the enclosure to get a 360 view of the beautiful city of San Francisco. You can see many of the major landmarks, including Sutro Tower, The Bay Bridge, and all of downtown.
Take your time and take lots of pictures. The tough part of the tour is over. Now it's time to relax, get some good food, and chill out with a cold drink.
Head on out the Western exit of the park, and follow Esmeralda ave to Coleridge street. Make a left and then a right onto Virginia ave. Make a right onto Mission street, and then a left onto 29th street. That will bring you to The Front Porch, our dinner spot.
21. Grab some soul food from The Front Porch (Yelp)
Duration: 45-60 mins
Cost: $15-25
The Front Porch is one of those places where I wish it was a lot closer to where I lived, because then I'd eat there all the time. They are known for their Southern cuisine, especially the fried chicken.
The interior of the restaurant is well decorated. Unfortunately I could not find a great picture of it. So you'll have to settle for this.
Here's a sneak preview of the fried chicken and the potato waffles. Strange combo huh? But you just did an epic art tour of the Mission and climbed Bernal Heights Park. You deserve it!
Now that you've had Humphry Slocombe ice cream, you'll have to compare it against Mitchell's ice cream. Walk down 29th street and pass San Jose Ave, Mitchell's should be to your right.
22. Final dessert at Mitchell's ice cream (Yelp)
Duration: 5-10 mins
Cost: $3-5
Unlike newcomer Humphry Slocombe, Mitchell's has been serving ice cream in the Mission since 1953. Man, wasn't that not too long after WWII? That's a hell of a long time to be serving ice cream. There must be something about it that keeps people coming back.
Mitchell's has a large selection of flavors to chose from. My favorites are the tropical flavors because they have Filipino flavors like Ube and Halo Halo that you can't find anywhere else. I used to live in the Philippines and I do miss those flavors.
Look at those colors! Doesn't that just make you want to put them in your face?
Okay, that's the last of our dessert stops. So what did you like the best? Anthony's cookies? Humphry Slocombe? St. Francis Fountain? or Mitchell's?
You can carry on that debate over at El Rio, one of the fun, divey bars in the Mission. Good thing it's also on the way back to the BART station. Go back on 29th street and make a left on Mission. That will take you straight to El Rio.
23. Enjoy some outdoor drinking at El Rio (Yelp)
El Rio's slogan is "a neighborhood bar with a heck of a lot to offer", and it's true. Let's get you inside and see what they have, starting with a couple of cheap drinks.
My favorite part of El Rio is the backyard. It's huge! You can usually find a chill spot to relax and there are heat lamps for when it gets chilly.
El Rio also has a backroom for live music performances. The music spans all genres so be ready to either rock out, or chill out, depending on the act of the night.
Are you tired yet? Cause I sure am. Let's head back towards the BART before the last train runs. But not before a night cap at one of the most popular taquerias in the Mission. What's a trip to the Mission without some Mexican food?
24. Late night burritos at Taquerias El Farolito (Yelp)
Duration: 15-20 mins
Cost: $6-8
I know what you're thinking. There's no way you can eat anymore tonight. Well no problem, because leftover burritos make great breakfasts!
Since this place is so popular, there will usually be a line. But it moves quickly so just chat with the other customers about how awesome of a day you've had, then enjoy the jealousy in their eyes.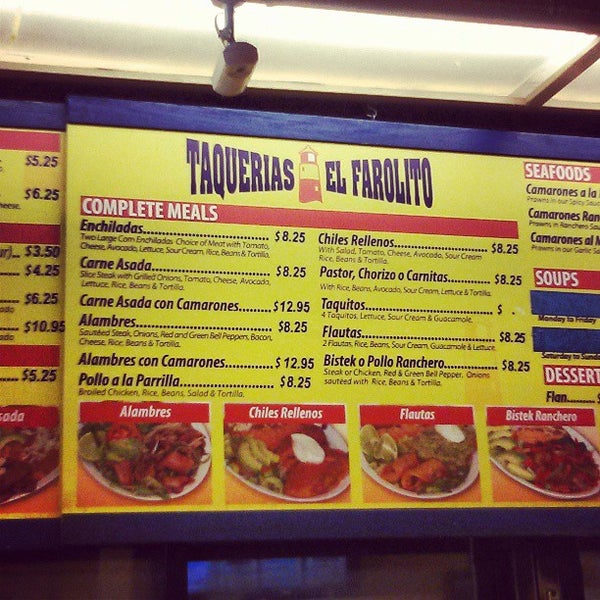 Look at that. It's beautiful, like a small baby, but tastier. Enjoy.
Well, there you have it folks. We wrapped up a pretty epic walking art and dessert tour of the Mission. You should be proud of yourselves! Give yourself a pat on the back and get on that last BART towards home.
You came, you ate, you conquered. Bravo!
Again, here the map of all the attractions, restaurants, and bars mentioned in this post: Map. You can even print it out for easy reference.
If you enjoyed this post, please check out the other Andy's Days of Fun here. 
What did you think of this tour? What did I miss? What would you have done differently? Please share it in the comments. I'd love to hear what you have to say.