Highlights:
Eat the best egg tarts in Chinatown
See how fortune cookies are made
See a 360 degree view of San Francisco
Explore and play for free at the Exploratorium
Gorgeous night time views of the bay
Check out the other Andy's Days of Fun here. 
Today I will attempt to cover 3 neighborhoods at once. Chinatown, North Beach, and the Embarcadero. I plan on hitting some of the best spots in each neighborhood, and to give you an inside look at some of the places you've may have considered visiting. Since these are 3 rather large neighborhoods, I have a hell of a lot of walking ahead of me. But I'm excited about what I'm about to see (and eat), and I think I'm going to have a ton of fun.
The Stops:
Start the day Powell street BART station
Check out the scene at Union Square
Taste the bubbles at Boba guys
Enter Chinatown through the Dragon's Gate
Browse the stores on Grant street
Try an egg custard tart at Eastern Bakery
Tea tasting at Blest Tea
See the dragon at the China Trade Center Art Gallery
Watch the card games at Portsmouth Square Plaza
Sip a Chinese Mai Tai at Li Po Cocktail Lounge
Absorb the scents at Nam Hai Corporation
More egg custard tarts at Golden Gate Bakery
Get your fortune at Golden Gate Fortune Cookie Factory
Eat a roast pork bun at Good Mong Kok bakery
Walk the beat through Jack Kerouac Alley
Relive the beat generation at Vesuvio Cafe
Sit with a book at City Lights Bookstore
Go On The Road at the Beat Museum
Stroll through Little Italy down Columbus ave
Sit on the grass at Washington Square Park
Take in the view from Coit Tower
See the gardens along the Filbert steps
Sit by a fountain in Levi's plaza
Have a drink on the bay at Pier 23 Cafe
Play like a kid again at the Exploratorium
Take a romantic walk down Pier 7
End the day at the Ferry Building
Homeward bound from the Embarcadero BART station
1. Start the day at Powell street BART station:
The Powell BART station is the gateway to the main shopping and hotel district in San Francisco. There you will find stores like Macy's and H&M, as well as high end stores like Gucci and Prada. I'm not a big shopper so I tend to skip the stores, but I do enjoy walking by Union Square. So that's where I headed to first.
From the BART station, I walked North along Stockton street. It's about 2 blocks to Union Square.
2. Check out the scene at Union Square (Yelp)
Union Square is a giant open plaza in the middle of all the department stores and hotels. It got its name because it used to be a gathering place for rallies to support the Union army during the American Civil War.
It's a great place to sit and relax in between your shopping runs. There are often public events held in the plaza. There is even an ice rink in the square during the holiday season.
I went up to The Cheesecake Factory on the 8th floor of the Macy's department store to get a better view of the square. There is an outdoor dining area at the restaurant that overlooks all of Union Square. You don't need to eat there to check out the view.
From here I continued up Stockton street towards Chinatown. I was in the mood for some bubble tea.
3. Taste the bubbles at Boba guys (Yelp)
Bubble tea has a lot of different names. You might have heard boba tea, or pearl milk tea, or even tapioca milk tea. But it's all the same thing, milk tea with chewy tapioca balls.
Boba guys is a new company that was started by 2 guys who really loved boba tea. They began as a popup shop in a ramen restaurant in the Mission and has now expanded to 2 physical locations in the Mission and Union Square.

I have tried several of their flavors and I've liked them all. Personally I find the horchata and the iced matcha latte to be the most interesting.
This time, I got the Jasmine milk tea with almond jelly. I usually replace the tapioca balls with almond or grass jelly since I don't like spending a lot of time and energy chewing.
Cost: $4 for 16oz cold tea
With tea in hand, I'm ready to head into Chinatown. I went up the stairs next to the big tunnel and walked down hill to the intersection of Bush and Grant street. There you'll find the Dragon's Gate.
4. Enter Chinatown through the Dragon's Gate (Yelp)
Honestly I think the gate is a little cheesy and touristy. It's pretty small, and the colors are somewhat faded. But it is a good landmark and stepping through the gate does make me feel like I'm in a different time and place.
Let's step into Chinatown and see what it has to offer.
5. Browse the stores on Grant street
My rule for browsing Chinatown stores is to skip any that look like a glorified dollar store. If you see license plates with names, it's not worth your time. Also skip any places that are called bazaars. There are no bazaars in China. It's just an exotic word used to lure in tourists.
Since I don't shop much, I tend to treat browsing stores in Chinatown like I'm visiting a museum. I'm just here to see interesting artwork. I don't need to bring it home with me.
Here are the stores I actually found to be interesting and worth checking out. They are listed as I walked by them down Grant street.
Tai Nam Yang Furniture Co. (Yelp)
I like the way this store is set up, and their collection of goods. Also, since it doesn't have cheap goods spilling out the door, it tends to have fewer shoppers and is more quiet.
These are some of the items you won't find in the other stores.
Dragon House Antiques (Yelp)
Looks like this store has actual antiques from China. There is a lot of controversy around taking antiques from old Chinese temples and selling them in the west. I don't support the practice, but I do like seeing the pieces.
This is not a Chinese themed store. It's a store for model cars, model airplanes, and action figures. They also have a selection of LED t-shirts that I find to be very amusing.
As you can see, Ironman is getting into the Halloween spirit!
If you're into anime or old school cartoons, then this store is awesome. However, be careful about touching too many items, I've heard that the owners can be pretty cranky.
They have a great collection of t-shirts and toys from many old anime shows I watched as a kid. Look! A Saint Seiya t-shirt!
Old Shanghai (Yelp)
This store is more touristy, but I really like their music, and their upstairs section has some interesting items.
This is one of the few items I would consider buying, if it wasn't so overpriced.
The wok is an all purpose cooking pot used in Chinese cooking. It originates from the Guandong province in China. It can be used for stir frying, steaming, pan frying, deep frying, poaching, boiling, braising, searing, stewing, making soup, smoking and roasting nuts. Yea, it's pretty useful.
Here you can see a collection of woks on top of a traditional brick oven.
The store sells new woks, seasoned (used) woks, and lots of other kitchen supplies and utensils. And since it's Chinatown, they also sell lanterns.
Looking at cooking utensils has made me hungry, so I stopped by next door for some baked goods.
6. Try an egg custard tart at Eastern Bakery (Yelp)
If you've been to a Chinatown before, then you know how many bakeries there can be. What's different about the bakeries in the San Francisco Chinatown is that they're not chains. Eastern Bakery is one of my usual stops.
I've heard that Eastern Bakery may be the first ever bakery in Chinatown. That claim has not been confirmed or denied.
They do have handy signs in English to help you make sense of what to get.
My favorite snack. Dan tat, or egg custard tart. You can usually get these for around $1. I ended up getting a coconut filled pastry, a lotus filled pastry, and a peanut filled pastry. The lotus one was my favorite.
Cost: 3 pastries for $5.75
Armed with pastries, I decided to hop over to the next block for a tea tasting.
Along the way, I stopped to check out some of the weapons for sale at Asian Trends on the next block. If I want to be Wolverine for Halloween, I'll know where to come to.
7. Tea tasting at Blest Tea (Yelp)
Blest Tea is a small hole in the wall tea shop specializing in blended teas from Asia.
They have dozens of blends of teas you can choose from. The teas range from green, to Oolong, to black, and many are blended with fruits and fragrant flowers. For a $3 per person tasting, you can try up to 5 teas made fresh right in front of you.
I'm not too knowledgeable about tea so I went with Nicole's recommendations.
Out of the 5 teas I tried, I ended up getting an ounce of the Summer Breeze and an ounce of the Osmanthus Oolong. The Summer Breeze is made with dried melons and was my favorite of the bunch.
Cost: $20 for tea tasting, 2 oz of tea, and a strainer
Next up is probably my favorite art gallery in Chinatown.
8. See the dragon at the China Trade Center Art Gallery (Yelp)
This is one of the larger buildings in Chinatown, and has an very official looking name.
Directly inside the door is this giant lantern.
And inside the spiral staircase is this hanging dragon.
There are also some very nice ink art and calligraphy pieces, along with statues and figurines on the bottom floor. It's a nice place to browse.
Now it's time to go see where the Chinese people hangout in Chinatown. I took a right at Washington street and walked towards Portsmouth Square.
9. Watch the card games at Portsmouth Square Plaza (Yelp) 
Portsmouth Square is a plaza in Chinatown where the elderly of the neighborhood gather to play games. The games consist mostly of card games, Chinese checkers, and occasionally mahjong. There are often dozens of games going on at the same time, with a handful of spectators at each table.
I'm not sure why but some tables have way more spectators than others. Perhaps those are higher level games with bigger stakes? It's not clear that there's gambling going on but I'm pretty sure money is being exchanged at some of the tables.
Now it's time to visit one of the few bars in the neighborhood. I headed back towards Grant street and continued to Li Po Cocktail Lounge.
10. Sip a Chinese Mai Tai at Li Po Cocktail Lounge (Yelp)
Li Po was a Chinese poet from the mid-Tang dynasty. He was known to celebrate drunkenness, and one of his most famous poems is named "Waking from Drunkenness on a Spring Day".
Li Po Cocktail Lounge has been open since 1937, and much of the artwork and decorations have survived since then. According to the bartender, most of the visitors to the lounge are travelers and local bartenders.
Since I was here, I might as well try a Chinese mai tai, the bar's own concoction. It's definitely a stiff drink, and was featured on an episode of Layover by Anthony Bourdain.
Now that I'm slightly woozy, it's time to perk up my sense of smell at Nam Hai Corporation across the street.
11. Absorb the scents at Nam Hai Corporation (Yelp)
Nam Hai Corporation is a traditional Chinese medicine shop that sells a variety of teas, herbs, ginseng, mushrooms, and anything else that could be sold as a Chinese "health" product. Although I'm not fully convinced of the effects of such remedies, I do like seeing and smelling the strange items they sell.
Check out these giant mushrooms. What do they do? I have no clue. But I can tell you that they're expensive.
Since I've only had a pastry and a lot of tea, it's time for some lunch. This lunch will be eaten at 3 locations, starting with Golden Gate Bakery.
12. More egg custard tarts at Golden Gate Bakery (Yelp)
Golden Gate Bakery is one of the most popular bakeries in Chinatown. Many people believe that they have the best egg custard tarts in the city. Well, I'm about to find out for myself.
The egg custard tarts definitely look amazing. But how do they taste?
After a few bites, I can say that the crust of the tart is definitely flakier than those at Eastern Bakery. The custard itself is less sweet, but still very creamy and delicious. I can't say which one is the winner, so I'll just have to come back next time.
Lunch stop #2 is Golden Gate Fortune Cookie Factory.
13. Get your fortune at Golden Gate Fortune Cookie Factory (Yelp)
The factory is located in Ross alley between Grant st and Stockton st. It's not big so it's easy to miss.
Directly inside the entrance you can see the workers at work making the cookies. The cookies come off the assembly line as little pancakes, which are then folded into the fortune cookie shape and allowed to cool on a rack. I wonder who actually write the fortunes for these cookies…
Since I make fortune cookies myself, I didn't feel like buying a bag. Instead, I bought a bag of cow ear cookies, also known as Smackers.
Now let's get some real lunch food at our last bakery stop, Good Mong Kok bakery.
14. Eat a roast pork bun at Good Mong Kok Bakery (Yelp)
The Good Mong Kok Bakery is different from the other bakeries in that they also make dim sum and other food items. What I personally like to get here are the roast pork buns. They are bigger, and come with more filling than your average roast pork bun.
Of course I also had to get an egg custard tart from here as well. In addition, I got a mochi pastry covered with coconut shavings and filled with a peanut based filling. Nom nom.
Cost: $2.50 for a roast pork bun, egg custard tart, and a mochi pastry. What a deal!
Now that's a filling lunch! And that about ends the Chinatown portion of the tour. Now it's time to venture into North Beach, starting with Jack Kerouac alley.
15. Walk the beat through Jack Kerouac Alley (Yelp)
The alley is named after Jack Kerouac because he used to frequent the book store and cafe in the alley.
Before becoming Jack Kerouac alley, the alley used to be a garbage dump and a shortcut for cars. The co-founder of City Lights Books presented the idea of transforming the alley into a public space in 1988. The alley was repaved, remodeled, and finally reopened in 2007.
The alley features several engraved poems, including poets like John Steinbeck, Maya Angelou, and Kerouac.
Following the advice of the poem above, I shall step into Vesuvio cafe for some wine, or beer.
16. Relive the beat generation at Vesuvio Cafe (Yelp)
Vesuvio Cafe is just at the end of Jack Kerouac Alley. The bar is known being a regular hangout of several beat generation celebrities including Jack Kerouac, Neal Cassady, and Allen Ginsberg. Bob Dylan and Francis Ford Coppola were also regular visitors.
I'm not sure how to adequately describe the interior of the bar. All I can say is that it has a lot of character, and history.
There is a fair amount of artwork and memorabilia both downstairs and upstairs. I definitely felt like my artistic senses were stimulated while sipping on my beer. I guess it could have just been the alcohol.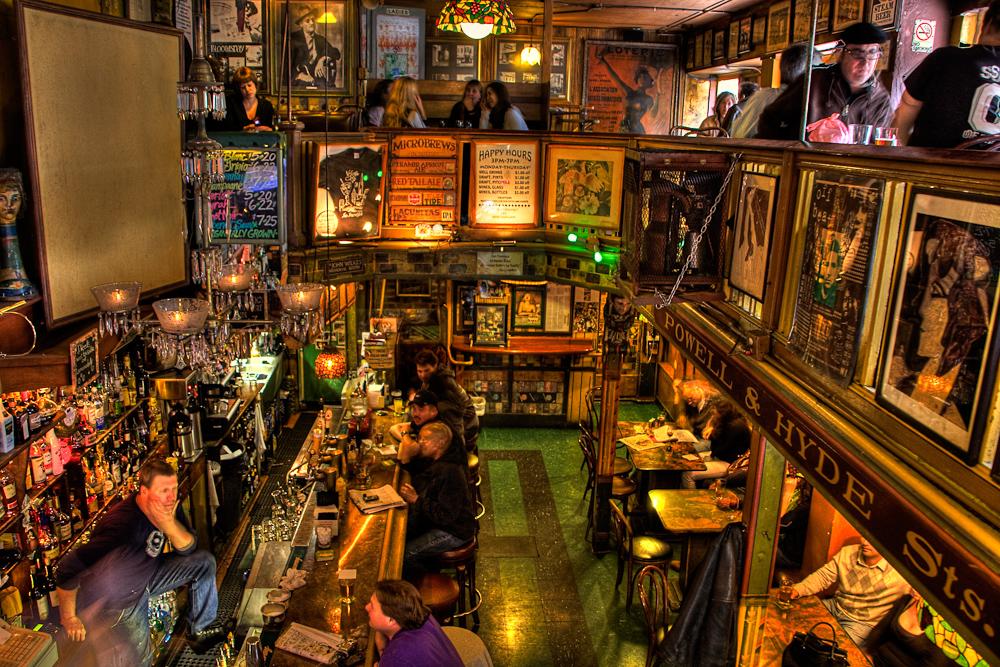 After the beer I head across the street to the bookstore.
17. Sit with a book at City Lights Bookstore (Yelp)
City Lights Bookstore was founded by Lawrence Ferlinghetti, a beat generation poet and publisher of many beat generation writers.
The bookstore is small but cozy, and it encourages visitors to sit down and read. I sat in that chair on the right, and the book I picked up was a Lonely Planet Guide to San Francisco. After browsing the suggestions and tours in the book, I'm pretty sure I do a better job of providing recommendations for San Francisco.
After sitting down for a few minutes, I felt refreshed enough to move onto the next stop, The Beat Museum.
18. Go On The Road at the Beat Museum (Yelp)
The Beat Museum is across the intersection from the City Lights Bookstore. Interestingly, it is also right next to several strip clubs. I wonder which one came first…
The museum is a tribute to the central figures of the beat generation, and also to the art and culture of those times. You can find books by Kerouac and Ginsberg, as well as records and magazines from those years.
I decided to not pay the $8 to check out the museum, and just browsed the museum store instead. There is a '49 Hudson in the store, made famous in Jack Kerouac's On The Road. The car is covered with dust, supposedly from the 5,000 mile drive it took to get the car to San Francisco.
The store also has a large collection of old Playboy magazines. The articles are very well written.
Next, I go into the heart of Little Italy.
19. Stroll through Little Italy down Columbus ave
The intersection of Columbus ave and Broadway is the end of Chinatown and the start of Little Italy. It's interesting that in both New York City and San Francisco that Chinatown and Little Italy border each other. Perhaps this points to the progression of immigrants through these two cities.
The feel of Columbus ave is distinctly different from Chinatown. The hole in the wall bakeries are replaced with pizzerias and cheese shops. And the sidewalks are lined with tables for patrons drinking their afternoon coffee or wine.
There were plenty of bakeries on this stretch of the road as well. However, I was still pretty full from lunch and I only feasted with my eyes.
Columbus ave eventually cuts through Washington Square park. And on the corner of the park is Rogue Ales Public House. Normally I would have stopped in for a beer, but I was running short on day light so I skipped this stop.
20. Sit on the grass in Washington Square Park (Yelp)
Washington Square park is a great place to relax on a sunny afternoon. The sides of the park is lined with great restaurants, bars, and small boutique shops.
On the North side of the park is Saints Peter and Paul Church. Ironically, the address of the church is 666 Filbert street. Mark of the beast!
From the park I took a right and went up Filbert street towards Coit Tower. This is the big climb of the day, and a good way to burn off the pastries I ate earlier.
21. Take in the view from Coit Tower (Yelp)
The tower is named after Lillie Hitchcock Coit, a wealthy socialite who loved to chase fires. When she died in 1929, she left a third of her estate to the city for civic beautification. Coit tower was proposed in 1931, and built in 1933.
To get to the top of the tower you have to take an elevator, and the entrance to the top is $8. You can also choose not to go up the elevator and enjoy the views from the base of the tower. I decided to go up because I just love great views from tall buildings.
The top of the tower is lined with windows which you can peek out of. Fortunately it was a very clear day and I was able to see the entire city and the bay.
There isn't much to do up there other than take pictures, so I got my photos and headed back down. Before leaving Coit Tower, I walked down to Pioneer park and checked out the statue of Christopher Columbus. It still fascinates me how much America idolizes Columbus, despite the fact that he was a pretty terrible human being.
Next I walked down the famous Filbert Steps towards the piers.
22. See the gardens along the Filbert steps (Yelp)
Filbert street is one of the steepest streets in the Western Hemisphere, which explains the necessity of the steps. Most of the houses along the street are only reachable via the steps.
The gardens along the steps are paid for and maintained by the residents of the street. It is quite peaceful to walk through the garden. There's something about walking on wooden steps that puts me at ease.
At the bottom of the steps you can get a pretty good view of Coit tower. And you can really get a sense of how steep Filbert street is.

At the base of the hill is Levi's Plaza.
23. Sit by a fountain in Levi's plaza (Yelp)
Levi's Plaza is part of the Levi's Strauss office complex. On one side is the corporate offices and on the other is a park with fountains and tree lined paths.
The park portion is very serene and a good place to sit and reflect for a while. I do enjoy meditating to the sound of flowing water.
Now it's time to hit the water! I crossed the street and headed to Pier 23.
24. Have a drink on the bay at Pier 23 Cafe (Yelp)
Pier 23 Cafe is a restaurant/bar with outdoor seating looking out into the bay. I love sitting by the water with a drink and this place was ideal after the Coit Tower climb.
One of my favorite things about San Francisco is how much of the city is surrounded by water. Of course we're screwed when the polar ice caps melt, but at least we can enjoy the ocean views from all sides of the city.
Since I had to make it to the Exploratorium by 4, 1 drink was all I had time for.
25. Play like a kid again at the Exploratorium (Yelp)
The Exploratorium is a giant interactive museum that takes over all of pier 15. Normally the entrance fee is $29 for adults. But several times a year the Exploratorium is free to the public, and this happens to be one of those days.
Pretty much everything in the Exploratorium is a hands on scientific experiment. You can play with exhibits that experiment with light, sound, motion, water, and much much more. I could spend an entire day here and not be bored.
The coolest thing for me was the parabolic mirror. Never have I ever felt like I could touch my own reflection. It was real trippy but awesome.
At the end of the pier you can get some amazing views of Alcatraz, the bay, and the bay bridge. I really got lucky with the weather on this day.
The sun had set by the time I was kicked out of the Exploratorium. So I headed to pier 7 for some night time views of the bay.
26. Take a romantic walk down Pier 7 (Yelp)
Pier 7 is one of the few places where you can walk out into the bay. It's a nice walk if you want to clear your head and take in the natural beauty of the bay.
The bonus of pier 7 is that you're treated with a gorgeous view of the San Francisco skyline as you walk back towards the road.
Remember Coit tower from earlier? Well now it's lit up all in red. It's quite a striking image against the night sky.
Now onto our last stop of the day, the iconic Ferry Building.
27. End the day at the Ferry Building (Yelp)
I would recommend having dinner at one of the many water front restaurants along the Embarcadero. However, since I was touring solo, I decided to eat at home instead. But if you were on a date, it would be a good way to end the night.
San Francisco is really into lighting up its buildings with different colors. That night it happened to be blue, but I'm not sure why.
28. Homeward bound from the Embarcadero BART station
Total duration: ~8 hours
Total cost: $67.50
That was one of the longest tours I've taken to date and probably also the richest in terms of experience. It also didn't cost very much, at $67.50, I had plenty of great food and drinks all day. I didn't need to buy the tea but it did smell and taste wonderful.
Here's my take on the three neighborhoods:
Chinatown: I got to know Chinatown a lot better today and I'm happy about that. It's definitely a tourist trap in some places, but the food you find there is pretty awesome and very cheap. There is a lot of good art and crafts to be seen if you know where to look. There are also little surprises like the Wok Shop and Blest Tea. I think I'm only beginning to scratch the surface of Chinatown.
North Beach: The pace of life feels slower here. People don't seem to be in a rush. There is always time to enjoy a snack and a cup of coffee. Let's go hangout in the park and look at the beautiful church! I can see the appeal of this area.
Embarcadero: Despite not being known for its nightlife, there is a lot to offer. From the beautiful views of the bay to the nighttime skyline of the city, the Embarcadero might be one of the more romantic parts of the city. It's the perfect place for long walks and talks about the future.
Again, here's a handy map of all the attractions, restaurants, and bars I visited in this post: Map
If you enjoyed this post, please check out the other Andy's Days of Fun here. 
What did you think of this tour? What did I miss? What would you have done differently? Please share it in the comments. I'd love to hear what you have to say.